Setting New Industrial Standards
The New Generation of Energy-Saving High-Tech Solutions for Monolithic Sapphire Ingots.
Setting New Industrial Standards
The New Generation of Energy-Saving High-Tech Solutions for Monolithic Sapphire Ingots.
YOUR EXPERT FOR MONOLITHIC SAPPHIRE INGOTS
Well developed supply chain
On request, customizable on axis-growth
European technology with global patent protection
advanced, multiple c-axis sapphire process
Highly competitive energy-saving technology
100 % European green production sites in development
12 years of R&D experience
Winner of the Upper-Austrian Innovation prize 2021
nominated for the Austrian "Staatspreis of Innovation 2022"
Early in 2012, the EBNER R&D department designed and developed a unique furnace to simultaneously grow multiple large-diameter sapphire single crystals. Today, FAMETEC is the sole European producer of state-of-the-art sapphire products such as high-quality net-shaped 6", 8" and 12" ingots. Our ingots offer excellent wafer quality, providing cutting-edge technology for optoelectronics (LED, mini-LED, micro-LED), semiconductors and equipment used in the medical and optical industries. FAMETEC has developed a proprietary crystal growth technology to grow sapphire crystals in multiple net shapes, with a special focus on larger-sized sapphire crystals. FAMETEC offers sapphire blanks and finished components with precise geometries, precise orientations and tight tolerances. As a company, FAMETEC's vision is to supply large-size sapphire substrates that are 'green' sapphire, grown using 100 % sustainable energy sources. FAMETEC 'green' sapphire is significantly more energy-efficient, of higher quality, and priced more competitively for use in micro-LED, power and optical applications. FAMETEC's advanced sapphire products enable manufacturers to increase yield and lower manufacturing costs, even as carbon footprints are reduced at the same time.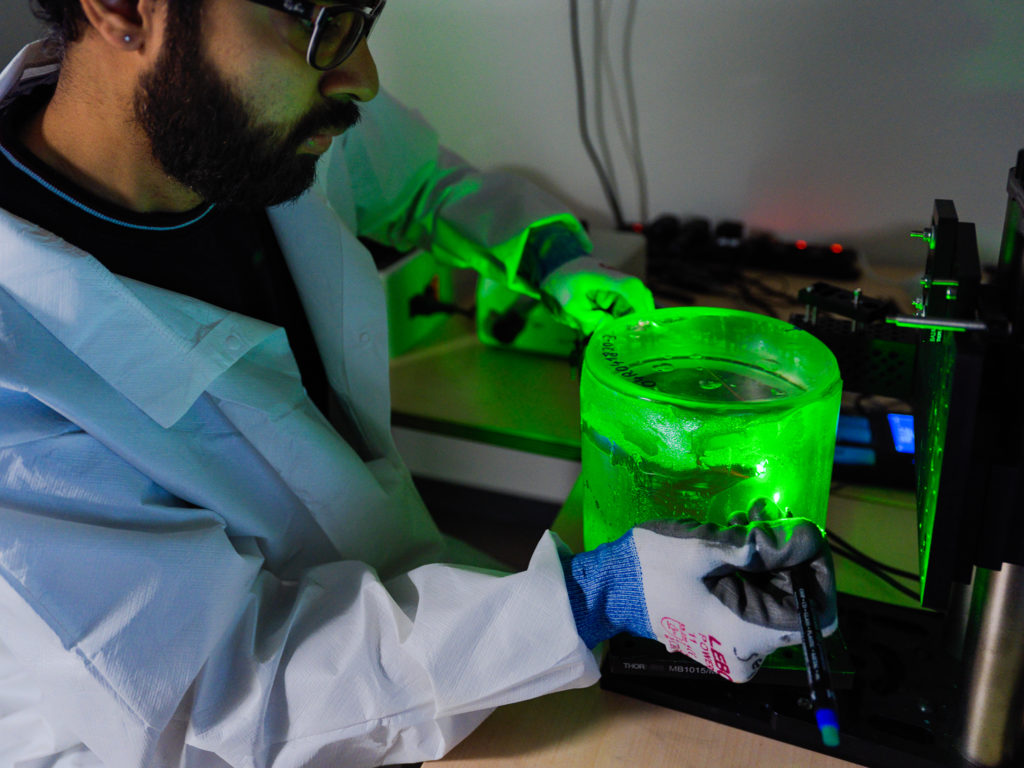 To produce a wafer grown using conventional methods such as the Czochralski or Kyropoulos processes, a cylinder must to be drilled out of an ingot at an angle of 90° to the direction of growth (i.e. along the c-axis). Wafers are then cut from this cylinder to create the product. In these methods, roughly 60 % of the material is scrapped during downstream processing. This amount of production waste, combined with the high energy consumption of the melting process and the amount of manual handling that is required, not only decreases effectiveness and efficiency but also leads to an in¬crease in emissions (e.g. carbon dioxide). In contrast, the Multi-c-axis Sapphire (McSap) process, a patented crystal growth technology developed by FAMETEC, greatly improves yields and performance. FAMETEC traces and collects detailed data from each stage of the process, from raw material to finished product, to ensure and confirm the quality of the final product. FAMETEC certifies the quality of its products, and its controlled process ensures customer satisfaction. FAMETEC ingots are used in downstream production processes to produce high-quality sapphire substrates for the manufacture of high-performance micro-LEDs and power devices.
FAMETEC has patented its new process, which is based on a modified HEM technology. The patent describes a furnace for our simultaneous multi-crystal growing process, in which the sapphire crystal boules are grown upwards along the c-axis. Applications for several additional patents have recently been submitted. Our patented net-shaped multi-crystal growth technology provides 6", 8" and even larger sapphire ingots (12") for micro-LED and power applications. Wafers produced using McSap, i.e. 6"/8" or larger ingots grown along the c-axis, show significantly improved BOW and WARP, yield and productivity paired with lower production costs. FAMETEC technology is based on a deep understanding of both the methodology of growth and the company's furnaces. Crystal growth professionals, from a variety of nations, have been collaborating on and developing our proprietary technology for years. Combined with the seventy-plus years of furnace technology history found in the EBNER GROUP, a robust furnace design was developed that maximizes the synergy between process development and furnace performance. Additionally our ability to manage traceability and our use of top-notch QM systems contribute to our customers' quality management, helping ensure the success of their products.
In general, microtechnology is designed by geometric structures. Micro-LED technology is considered a game-changer for the display industry, due to its outstanding characteristics when compared to OLED and LED technologies. Using micro-LEDs, low power consumption plays a key role in energy savings even as superior pixel density, excellent contrast ratio and outstanding brightness allow crystal-clear images to be displayed. The number of potential applications defies imagination, ranging from high-definition TVs, image sensors, automotive/aerospace lights, and commercial/entertainment displays to industrial textile applications.
Due to the rapid growth in demand, large-sized (8") micro-LED substrates are urgently needed – 8" sapphire has already been requested by major LED manufacturers. Fortunately, this demand can be met: FAMETEC's developments have enabled the production of 8" sapphire substrate using McSap technology.
Paired with the energy-efficient McSAP production process, this leads to a drastic reduction in CO2 emissions.
Sapphire is one of the most suitable substrates for high-bandgap semiconducting materials like GaN, SiC, and AlN. This is due to two of the most prominent characteristics of sapphire substrate, its adaptability and accessibility. Sapphire is not only stable when exposed to physical changes such as temperature gradients, but is also stable when subjected to a wide variety of chemical treatments during the chip manufacturing process. Although extensive R&D effort is being expended on the study of Si substrates as an alternative, in terms of thermal expansion sapphire is still the outstanding choice for multi-growth epitaxies. For high power electronics, sapphire is experiencing rapid growth in the market for GaN-on-sapphire and GaN templates. For example, more and more companies have recently been adapting and expanding their lines of GaN-on-sapphire products over their GaNon-Si lines. In response to the demand for electric/hybrid electric vehicles (EV/HEV), the GaN template market is wide open for power converters/inverters. FAMETEC is capable of supplying the large diameter ingots required to manufacture 6", 8" and 12" sapphire substrates for power electronics.
Sapphire has always been used for optical applications due to its high durability and optical properties throughout UV to IR. For the classical optical applications the market is extremely fragmented with a multitude of small finishing suppliers offering optics. Although smartphone camera and smart watch adopt sapphire as a cover glass, its size is still limited around 2". For the largest applications, the market is more concentrated with clear leaders and difficult technological barriers. The aerospace and defense applications have been the value added market only for specialized finishing and its unique shape: large windows for targeting pods and domes. At the same time, Hardened Transparent Armors (HTA) are also emerging as a significant source of revenue for sapphire makers. FAMETEC is compatible to supply different target materials due to  flexibility of patented technology.  Versatile FAMETEC furnace and state-of-the-art inspection system can easily optimize its sapphire growth process responding to the market demands.
FAMETEC received the jury award for radical innovation:
FAMETEC is a member of the


Group.